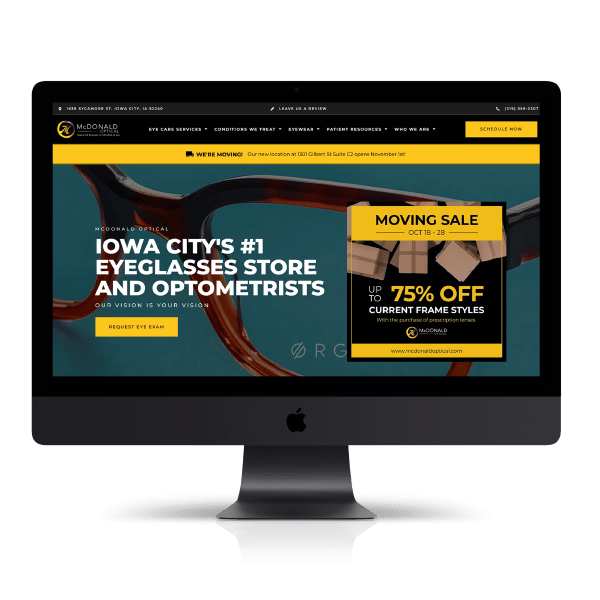 Patient-Focused Web Design For Optometry Clinics
Ensuring that your patients are doing their best is one of your top priorities as a leading optometry clinic in your community. To make your patients feel the most at home you pride yourself on having a comfortable, educational, and professional atmosphere for them to experience while at your clinic.
Great web design aims to do the exact same thing, only curating that welcoming & professional experience on the world wide web. With a website that showcases exactly who you are and the quality services you provide. We here at Aelieve pride ourselves on offering award-winning and patient-focused optometry web design services. We know the importance of curating that quality and comforting feeling for your patients, and we know that we can showcase that through our web design services.
Whether you're looking for something sleek and modern, or more of a professional and traditional feeling, our expert web designers know exactly how to craft something that shows off exactly who you are, while still being functional for your patients.
With optometry web design services such as:
Search Engine Optimization or SEO

Hosting & Security

Speed Optimization

Local SEO
And more, your website will not only convey your brick-and-mortar values and atmosphere but be an informative and engaging place for your patients to visit and utilize for their optometry needs.
Reach out to us here at Aelieve Digital Marketing today to start your journey with us and your optometry web design needs.
Our Orthopedic web design technology stack
We pride ourselves on staying ahead of the curve when it comes to technology. When you work with Aelieve, know you are getting the latest and greatest.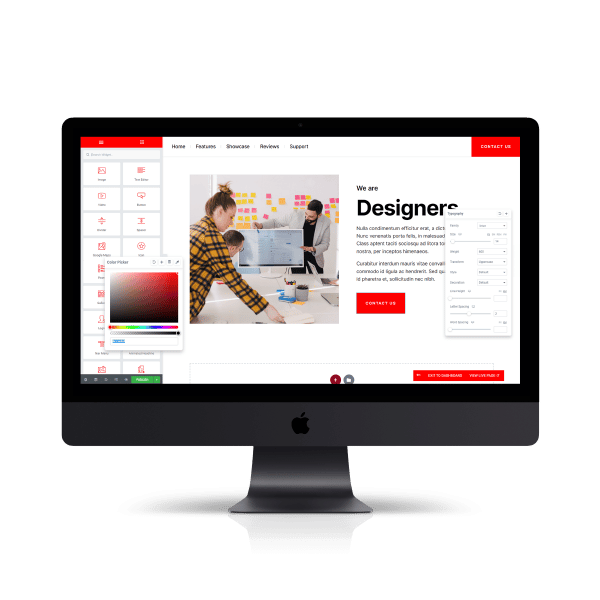 Aelieve One Content Management System
Our Content Management System (CMS) is a unique and comprehensive website management software that makes building the foundation of your business online easier than ever before.
Our holistic web design services for your optometry clinic
Holistic Optometry web design your clinic needs
It takes about 0.05 seconds for a patient to make a judgment about your website and therefore your practice as a whole. That means it's of utmost importance to have a website that engages and informs—which isn't an easy feat when you're running a bustling optometry clinic.
Great web design has to be able to do a lot of things, like support your patients and give them the information they may need to better understand their surgery, procedure, overall optometry information, or who you are as a clinic. It also needs to be engaging enough to keep them interested, while also being able to stand out from the local competition. It can seem overwhelming.
That's where we here at Aelieve come in.
Our web designers are experts in their field and know exactly how to create a website that doesn't just look aesthetically pleasing and reflects your clinic's values but operates efficiently and effectively in a way that further showcases your authority within your niche.
That means we know how to craft a website that fits all of your needs and those of your patients. Through tools such as optimized copy, stunning visuals and graphics, as well as having a website that runs smoothly and efficiently for your patients—Our website design services for optometry clinics will take your website and business to the next level. So that you can focus on doing what matters most, helping your community.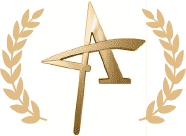 Gold Winner 2022
American Advertising Award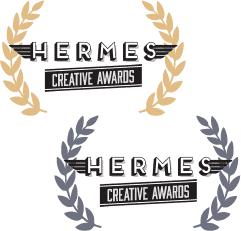 Gold & Platinum Winner 2022
Hermes Creative Awards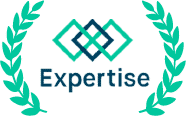 Best Digital Marketing Agency
Expertise.com 2022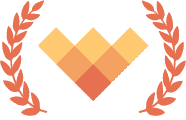 Top Rated Digital Agency
Digital Excellence Awards
An award-winning Optometry marketing agency

Why we're the best for Optometry web design
Reach out to us today to start working on your one-of-a-kind orthopedic website.
Gone are the days of having to hire multiple people or agencies to do your marketing, with our team here at Aelieve, you'll have access to everything you need & more. We have experts on almost every facet of the digital marketing scope and know exactly how to utilize those services to get your optometry clinic out there for the world to see.
With our devoted copywriters ensuring that your copy is full of keywords and phrases that rank high within Google, your patients will be able to find your clinic with ease. No more digging around and scrolling trying to find you, you'll be up at the top, right where you belong.
Your patients want someone they can turn to and trust when it comes to their eye care or overall health. That means that if your website is easy enough to access and find, your quality health information will be a comfort to patients across the web. You'll be able to engage and inform your patients all with the help of our digital marketing services for optometry clinics.
Web design projects we've done
We're proud of the work we've done for our clients, partners, and friends. Use the links below to view some of our creative design projects and see how they've benefited our clients.
Start by seeing how you compare to other practices in your local area and specialty.
Some Optometry web design stats you should know
Optometry web design services are important for optometry clinics trying to make it in the digital scope—which is why we've taken the time to compile some eye-opening statistics to showcase the power of great web design.
of first impressions are related to design.
Almost immediately after viewing your website, your patients have made an opinion about your practice. That means that your website has to be in tip-top shape to not only wow them, but to establish legitimacy and show that your optometry practice is cohesive and professional.

Example: When you click on a website the first thing you notice is if it's done well or not. Everything from the composition, to the accessibility, and even the color scheme. If the website isn't designed in a way that is functional and aesthetically pleasing, you'll most likely click off and pursue other websites. But, if it's one that's done exceedingly well, you'll stay.
of increased conversion rate when you increase site speed.
How fast your website loads can affect the amount of traffic and therefore patients who will stay, pursue your site, as well as hopefully turn into a lasting patient. By having a website that loads efficiently, you're making your site not only accessible to your patients, but also giving your practice the chance to become an information leader within your niche. 

Example: Everyone has had those moments where the website just isn't loading, you get frustrated, and eventually leave the sight, remembering that agitated feeling. This feeling and remembrance can persist with your patients, which is why the topic of if your website laods fast or not can seriously affect how much your patient base increases as well as the amount of people your practice is able to help.
of increased engagement when your website has images.
Having a website that displays your optometry clinic in a way that is engaging and as well as informative is important when it comes to educating potential patients about what you do. An efficient way to do this is by utilizing pictures & videos on your website. Our team is full of experts when it comes to photography & videography. 
Example: Sometimes things just don't click right away, which is why having things such as informative videos or photos can be extremely helpful when it comes to showing patients in an accessible way what you do and the procedures & services your practice provides.
Frequently asked questions
We know the world of optometry web design can seem daunting or even confusing at times. Which is why we've compiled a list of FAQ's.
How Optometry web design benefits your practice
New patient booking increases
Intensive website re-design
Cutting-edge marketing toolbox
One-on-one expert consultation
A growth-focused relationship
Stunning optometry web design services specifically for your clinic
Optometry clinics are a vital part of your community, providing some of the most important services to every person who walks through your office doors. Which means that your clinic deserves optometry web design services that are award-winning, quality, and showcase exactly who you are and what you do to your patients. A web design agency that knows exactly how to create something truly beautiful yet functional for your optometry clinic and your patients.
We here at Aelieve know just how to do that. We are a team full of  optometry web designers that will work endlessly to provide a website that looks stunning, runs smoothly & efficiently, is secure for your patients, and is engaging, all the while ranking at the top of search.
When you sign on with us, you're signing on for the top optometry web design services that you deserve. Let us help you, help your community, connect with Aelieve Digital Marketing today to start your web design journey.
Optometry web design pricing
Custom developed & designed websites ranging from 1-50+ pages.
Search Engine Optimization
Drive customers to your new website with on-going SEO.
Website Maintenance, Security, & Support
Make sure your site is safe, secure, and protected from whatever's out on the web.
Get on top and stay on top of local search results.
Conversion Rate Optimization
ROI-Driven strategies that will help you bring in traffic like never before.
Core Web Vitals (Speed Optimization)
Fine-tune your website so it runs smoother and faster than anyone else.
Start your marketing journey!
Start by seeing how you compare to other clinics in your local area and specialty.
Get your FREE digital marketing plan customized for you