Your guest wifi is your most successful marketing tool.
Wi-Fi Marketing is the marketing technique you're missing out on if you offer in-store shoppers free wifi. Wifi marketing transforms guest wifi into an engaging customer experience that collects customer data and boosts revenue. You'll gain actionable insights into who your customers are, plus their contact information.
Wifi Marketing is one of the most powerful tools brands can use today to engage their audience and collect customer data. Wifi marketing utilizes cloud-based technologies to send personalized messages and create real-time interactions with customers. Wifi marketing with Aelieve allows you to analyze and discover your brand's core demographics, automatically collecting essential data.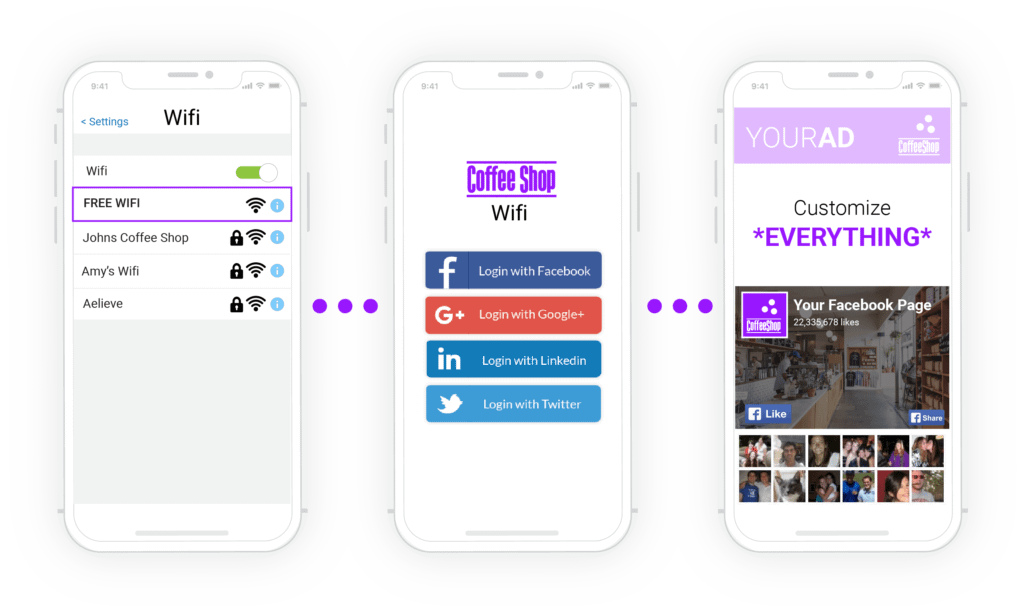 Engage your patrons
with wifi marketing services.
Offer Customers Free Wi-fi And Capture Your Customer's Contact Information Through Your Wi-fi Network.
Send Exclusive Deals & Promotions To Your Customers And Encourage Them To Come Back.
Track Your Wi-fi Marketing Campaigns And Collect Contact Info With A Personalized Analytics Dashboard.
Create beautiful branded login landing pages for customers that highlight and promote your brand.
Automate the process of requesting feedback from guests and customers by immediately requesting that they submit reviews when they login to your wifi network.
Build reputation and trust with your customers by allowing them to leave feedback and communicating with them through wifi-enabled messaging.
Build loyalty
with Wifi Marketing.
With Aelieve, you can easily turn your free guest wifi into an automated marketing machine. Engage your customers in store, send promotions to returning customers in real-time, and build your reputation with reviews. We help turn your customers into loyal brand advocates using wifi marketing.