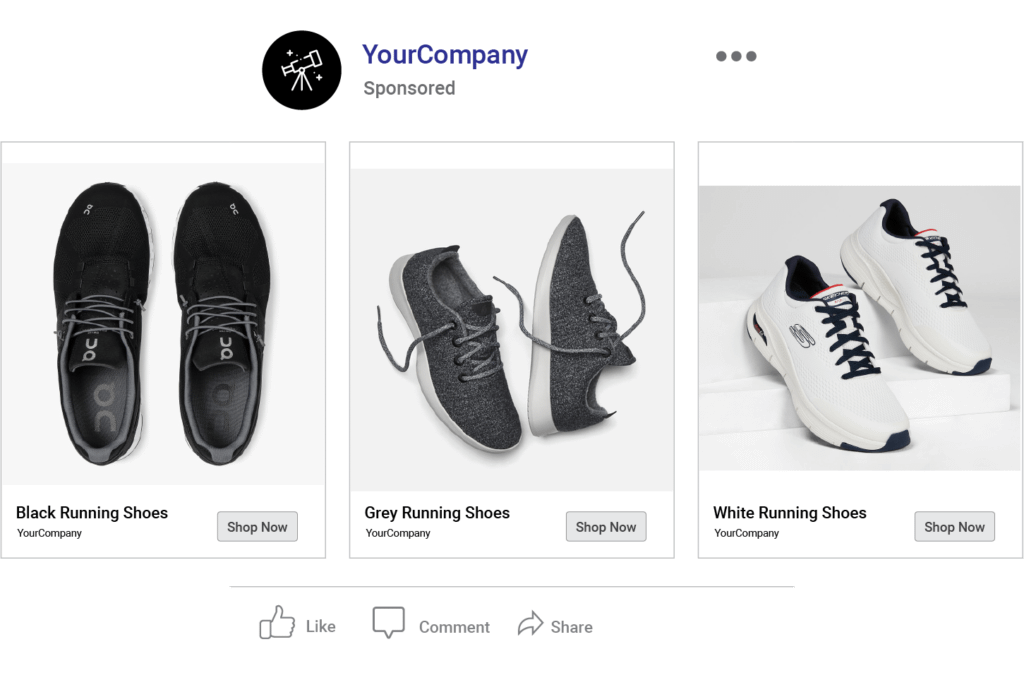 Maximize visibility and sales.
Ecommerce stores can quickly reach customers looking for their products online with a robust and competitive digital ad strategy that targets search engines and social media channels. There are numerous platforms- Google, Bing, Social Media, and many more- where you can advertise products and drive traffic to your ecommerce store.
With search ads, we help businesses appear at the top of Google searches, helping customers searching for your products find your site. Through social ads, we take your brand to the vast social media audience and deliver them to your website. Our digital ads experts are prepared to help you optimize ad campaigns that maximize visibility, traffic, and sales for your site.
Take advantage
of eCommerce ads.
Ecommerce ads deliver more qualified web traffic by targeting users based on the number of different variables. Ads are displayed based on search intent, profession, age, geographical area, and more variables. The result is that your ads are seen by the people who need your products.
Improving brand awareness is a great byproduct of a digital ad campaign. With targeted ads, you're brand will be more visible for the users that are most likely to become a part of your long-term customer base.z
Digital ads are cost-efficient, able to frequently deliver multiple X returns on an ad campaign. On average, even the most basic campaigns deliver double the investment, and prove to be enormously valuable for any ecommerce site.
Search Ads display on search engine results pages when a user enters a query related to your products and services. We conduct thorough research and keyword analysis to develop results-driven PPC strategies that boost your ROI and produce sales for your ecommerce site.
Social channels like Facebook, Twitter, LinkedIn, Instagram, and more are teeming with users searching for their next great find. Investing in a social ad strategy ensures that your products are visible for social users to engage with, follow you, visit your site, and ultimately make a purchase.
The foundation of a great Ecommerce ad strategy starts with foundational keyword research and competitor research to find out what your potential customers are searching for online. We look for the key-phrases with the greatest potential to convert customers, and implement negative keywords that ensure your keywords only appear for the most relevant queries.
After conducting our research, we get to work creating multiple variations of the ads with different images, headlines, descriptions, and call-to-action's. Depending on if the campaign is designated for search or for social, the creation process gives us the opportunity to decipher what ad copy works best and which ad images are most appealing to your target audience.
We follow a refined ad testing methodology that enables us to determine the most successful, highest converting ads. We test factors like click-through-rate, cost-per-click, website visits, calls, and much more. The testing phase enables us to identify the ad specifications that deliver the greatest return on your investment.
The ad optimization process never stops. We're always looking for ways to deliver greater ROI and web traffic with improved ecommerce ads. Each day that a campaign is live reveals valuable information that we use to make tweaks that ensure your campaign is optimized. We monitor all metrics to ensure that click-through-rate increases, while your cost-per-click drops over time.