Started Evolving | 04/18/2019
The Preferred Provider of Outpatient Physical Therapy.
ReLive Therapy's success, which is characterized by compassion and clinical excellence, has been founded with over 30 years of experience on their dedication to their patients and emphasis on superior evidenced based care. By providing services  with their goal of 1 patient at a time satisfied, ReLive Physical Therapy strives to be the preferred provider of outpatient physical therapy for the communities they serve. 
ReLive Therapy care about their patients and are committed to maintaining patient satisfaction through services with over a 95 % satisfaction with their discharged patients. A supportive team environment and patient education are critical in their efforts to ensure efficient and effective treatment and results. 
01/04 Maximize Visibility In Search
02/04 Design SEO & User-Friendly Website
03/04 Implement Analytics Tracking & Metrics
04/04 Increase Number of Website Visitors
When Aelieve partnered up with ReLive Physical Therapy, they had a shaky foundation with rapid growth. However, Aelieve knew the right approach to help them step up to the next-level with a sleek website re-design, the implementation of advanced SEO best practices, application of local SEO best practices, the creation of easily navigable, user-friendly site hierarchy, and analytics tracking & metrics.
The total number of times any unique visitor comes to your website and views pages.
The total customer actions from Google and other search engines.
The total number of times anyone sees your company's listings or ad.
The total number of direct, discovery, and branded searches that led to your listings.
A customer found your business via Google Search or Google Maps.
A customer or any unique visitor visits and views your website.
A customer requests directions to your business.
The number of clicks on the call button on your Google My Business profile.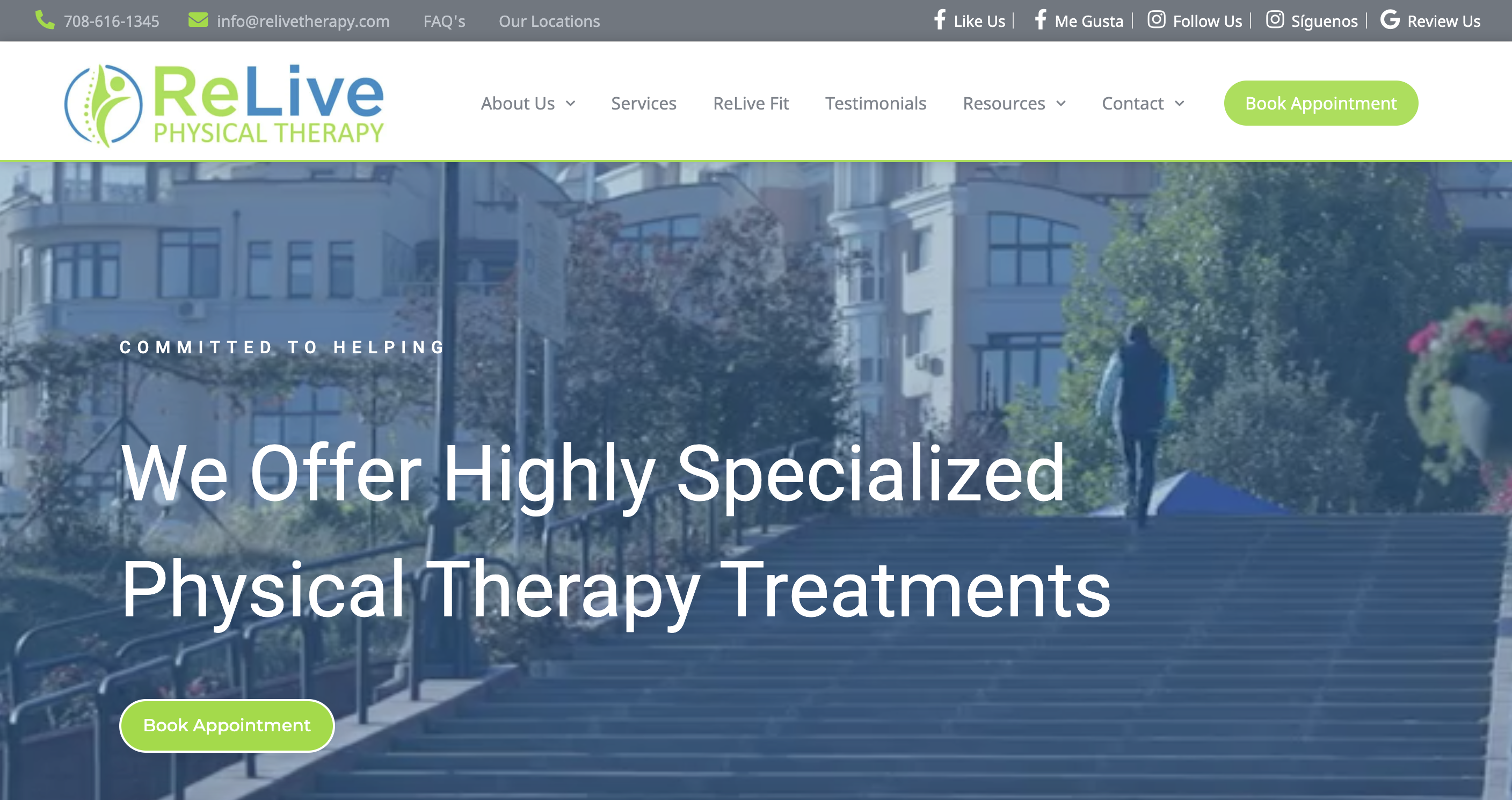 Case Study 2019 | Conclusion
The launch of the Relive website brought with it record visibility in major search engines, top ranks for numerous keywords, and record number of leads. Relive's digital presence was highly successful during the year, achieving greater web traffic, and generating more digital leads than ever before.